115th Annual Canton Labor Day Parade
Local 61 was proud to be a part of the 115th Annual Canton Labor Day parade again this year. We were joined on our float by members from several of our locations and their families. It was inspiring to see the turnout from the community after such a hard year for the town of Canton. After the recent closure of the towns paper mill, Evergreen, which opened over a century ago and employed thousands of workers over the years.
'This year with the mill closed, the parade felt a little different. It was quite emotional,' President Mark Greene stated. 'We have always been proud to be a part of the oldest Labor Day parade in the South.'
To see more photos and read more about this historic parade, click the following link from the Asheville Citizen Times article:
https://www.citizen-times.com/story/news/local/2023/09/04/canton-celebrates-115th-labor-day-parade/70721669007/
#HaywoodStrong
66th Annual Convention Brings Labor Solidarity to Asheville
NC State AFL-CIO's 66th Annual Convention Brings Labor Solidarity To Asheville
The in-person event brought together nearly 275 labor union activists and leaders to educate and inspire North Carolina workers to keep up historic levels of union organizing!
"Ain't no mountain high enough, no corporation big enough, and no politician powerful enough to stop us from moving forward until there's justice and shared prosperity for us all!"
RALEIGH, NC – For the 66th year in a row, hundreds of North Carolina union members and leaders, community organizers, and elected officials came together at the Annual Convention of the North Carolina State AFL-CIO, held Thursday and Friday, Sept. 7th and 8th in Asheville, to say, "Ain't no mountain high enough" to stop working people from organizing and mobilizing because life truly is better in a union.
See photos of the 66th Annual Convention on DropEvent.com
With public approval of unions and union organizing victories both at historic levels, the day and a half convention brought together nearly 275 labor leaders and activist members from across North Carolina for inspirational speeches, panel discussions, and rallies all focused on building the labor movement and the solidarity support needed to meet the moment.
Speakers in attendance included:
North Carolina Governor Roy Cooper
AFL-CIO Secretary-Treasurer Fred Redmond
National Nurses United Executive Director Bonnie Castillo
"Now is our time," said NC State AFL-CIO President MaryBe McMillan. "We have an incredible opportunity to change workers' lives and our nation for the better. Together there ain't no mountain high enough, no corporation big enough, and no politician powerful enough to stop us from organizing and moving forward until there's justice and shared prosperity for all of us!"
On Thursday morning, National Nurses United executive director Bonnie Castillo kicked things off with an impassioned defense of union organizing to protect patients and working people alike. "Our oath to care for patients doesn't stop at the hospital wall! We'll continue to fight for meaningful change and to organize in the South!"
Local 61 President Mark Greene was invited to speak at an event to bring awareness on workers' rights & health care justice on September 7th, 2023 at Pack Square Park in Downtown Asheville. This event was held at the end of day one of an annual two day event hosted by the North Carolina AFL-CIO. The AFL-CIO chose to host their 66th Annual Convention in Asheville this year. Local 61 was represented by Delegates; Brothers Blake Honeycutt, Shawn Kennedy, Thomas Lupton and Lee Player. Thank you to our delegates for representing Local 61 at this event.
You can read more on this event and browse more photos at the following link: https://aflcionc.org/66th-annual-convention-brings-labor-solidarity-to-asheville/
Local 61 Vote Count
Secretary-Treasurer, Brian Ball served on the UPS National Negotiating Committee and said the following; "I am extremely proud of the Members in our Local Union. Our Local produced one of the highest turnout percentages in the nation. Thank you to everyone who took the time to vote for their future and to stand up for what they believe in."
Business Agent Tommy Pintacuda served on the Atlantic Area Supplement Negotiating Committee said the following; "Our shop stewards put their all into informing our members on what this contract holds for their future and encouraging voter turnout. We have a histortic contract with increased wages and pensions plus new language that helps protect the jobs of all our Members."
The 2023-2028 UPS Contract and Atlantic Area Supplement voting results are in for Local 61. Below are the official numbers.
RECORD VOTER TURNOUT IN LOCAL 61 - 84.7%
| | | | | | | |
| --- | --- | --- | --- | --- | --- | --- |
| Local | Tentative Agreement | Yes | Yes % | No | No % | Total |
| 61 | UPS Teamsters National Master Tentative Agreement | 829 | 87.54 | 118 | 12.46 | 947 |
| 61 | Atlantic Area Supplemental Tentative Agreement | 780 | 82.8 | 162 | 17.2 | 942 |
UPS Contract Meeting
---
Click Link Below to see the National & Atlantic Area Supplement Proposed Changes
UPS TENTATIVE AGREEMENTS 2023-2028
Local UPS workers protest amid ongoing contract negotiations with shipping giant
ASHEVILLE, N.C. (WLOS) — United Parcel Service (UPS) workers in the mountains held an early-morning demonstration on Friday, June 30, as union leaders negotiated with company management over wages, working conditions, healthcare and pensions.
Photos show workers held signs that said, "Just practicing for a just contract," outside of the UPS Customer Centers in Hendersonville and Asheville before starting work for the day.
According to the Associated Press, the head of the union representing 340,000 UPS workers said a strike is imminent and gave the company a Friday deadline to improve its offer.
UPS TEAMSTERS VOTE TO AUTHORIZE STRIKE; SUMMER SERVICE DISRUPTIONS LOOM
"The largest single-employer strike in American history now appears inevitable," Teamsters General President Sean O'Brien said in a written statement on Wednesday, June 28. "Executives at UPS, some of whom get tens of millions of dollars a year, do not care about the hundreds of thousands of American workers who make this company run. They don't care about our members' families. UPS doesn't want to pay up. Their actions and insults at the bargaining table have proven they are just another corporation that wants to keep all the money at the top. Working people who bust their asses every single day do not matter, not to UPS."
UPS said it presented a "significantly amended proposal to address key demands" on Wednesday.
"Reaching consensus requires time and serious, detailed discussion, but it also requires give-and-take from both sides," the company's written statement said, in part. "We're working around the clock to reach an agreement that strengthens our industry-leading pay and benefits ahead of the current contract's expiration on August 1. We remain at the table ready to negotiate."
Tommy Pintacuda, a spokesperson for Teamsters Local 61 in Asheville, said, for drivers who are a part of the union, a strike is something that's on the table.
"We do not want to strike. We hope there's not going to be a strike. But, we also have to have a fair contract, and that's what we were out here demonstrating today," he said.
UPS delivers more than 24 million packages daily. Their current contract is set to expire on July 31, 2023.
President Greene Interviewed by Local Newspaper
UPS Drivers Threaten Strike Over Working Conditions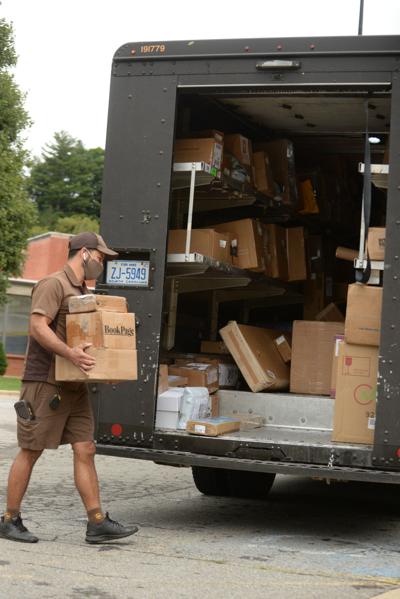 ON THE MOVE — UPS delivery driver Jason Ledford goes non-stop getting packages to doorsteps throughout Waynesville, pictured in this 2021 making a delivery at Waynesville Middle.
Becky Johnson
Your deliveries could be delayed if the threat of a strike by UPS workers comes to fruition.
The union that represents UPS workers — the International Brotherhood of Teamsters — voted in favor of a strike if a labor deal can't be reached. The Western North Carolina chapter, Local 61, represents approximately 600 UPS drivers.
The WNC chapter approved the strike authorization with 96% of voting members in favor.
"We want better working conditions and less hours. We want what we deserve," Local 61 President Mark Greene said. "They work really hard. It's a brutal job. They're out in the elements all day long."
Greene called UPS "a very brutal company to work for."
A potential strike could devastate the economy and bring many online purchasing platforms grind to a standstill. In 2022, UPS was second in parcel volume, trailing only the United States Postal Service. USPS carried 6.7 billion packages, UPS had 5.2 billion, Amazon had 4.8 billion and FedEx had 4.1 billion.
The union vote does not mean there will be a strike, however. UPS and Teamsters have until July 31 to reach a deal on a new labor contract.
"It's really to get the company's attention if they aren't going to negotiate in good faith," Greene said.
Greene doubts a strike will become a reality "because UPS doesn't want that to happen either."
UPS drivers routinely face tough work conditions. From extreme heat to long hours, drivers go through the wringer to get millions of package, delivered to millions of doorsteps every day.
Greene said that he could not discuss details of the negotiations so far, but did touch on the most recent development that has been made public.
On Wednesday, Teamsters announced that they had reached an agreement with UPS on air conditioning in vehicles, something desperately needed during the summer months.
"There have been people die from heat exhaustion that work for UPS," Greene said. "That's why we were working so hard to get air conditioning. The company is making billions and billions. Why wouldn't they pass that on?"
The agreement would provide air conditioning in newly-purchased vehicles beginning Jan. 1, 2024. Two in-cab fans would be installed in vehicles after a new contract is ratified. Newer non-electric vehicles would also be fitted with exhaust heat shields.
The air conditioning concession seems to be a step in the right direction and just one reason that Greene is optimistic that negotiations will work in the right way.
"I think this will be the best contract ever negotiated for Teamsters," Greene said. "Definitely the best since I joined the Teamsters 36 years ago."
Reporter
Subcategories
If you'd like to keep up with what's happening here at Local 61, we encourage you to sign up for our newsletter. You do not have to be a member to receive the newsletter.