UPS Drivers Threaten Strike Over Working Conditions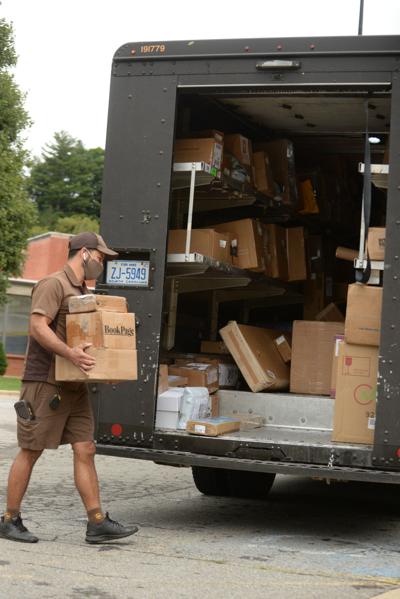 ON THE MOVE — UPS delivery driver Jason Ledford goes non-stop getting packages to doorsteps throughout Waynesville, pictured in this 2021 making a delivery at Waynesville Middle.
Becky Johnson
Your deliveries could be delayed if the threat of a strike by UPS workers comes to fruition.
The union that represents UPS workers — the International Brotherhood of Teamsters — voted in favor of a strike if a labor deal can't be reached. The Western North Carolina chapter, Local 61, represents approximately 600 UPS drivers.
The WNC chapter approved the strike authorization with 96% of voting members in favor.
"We want better working conditions and less hours. We want what we deserve," Local 61 President Mark Greene said. "They work really hard. It's a brutal job. They're out in the elements all day long."
Greene called UPS "a very brutal company to work for."
A potential strike could devastate the economy and bring many online purchasing platforms grind to a standstill. In 2022, UPS was second in parcel volume, trailing only the United States Postal Service. USPS carried 6.7 billion packages, UPS had 5.2 billion, Amazon had 4.8 billion and FedEx had 4.1 billion.
The union vote does not mean there will be a strike, however. UPS and Teamsters have until July 31 to reach a deal on a new labor contract.
"It's really to get the company's attention if they aren't going to negotiate in good faith," Greene said.
Greene doubts a strike will become a reality "because UPS doesn't want that to happen either."
UPS drivers routinely face tough work conditions. From extreme heat to long hours, drivers go through the wringer to get millions of package, delivered to millions of doorsteps every day.
Greene said that he could not discuss details of the negotiations so far, but did touch on the most recent development that has been made public.
On Wednesday, Teamsters announced that they had reached an agreement with UPS on air conditioning in vehicles, something desperately needed during the summer months.
"There have been people die from heat exhaustion that work for UPS," Greene said. "That's why we were working so hard to get air conditioning. The company is making billions and billions. Why wouldn't they pass that on?"
The agreement would provide air conditioning in newly-purchased vehicles beginning Jan. 1, 2024. Two in-cab fans would be installed in vehicles after a new contract is ratified. Newer non-electric vehicles would also be fitted with exhaust heat shields.
The air conditioning concession seems to be a step in the right direction and just one reason that Greene is optimistic that negotiations will work in the right way.
"I think this will be the best contract ever negotiated for Teamsters," Greene said. "Definitely the best since I joined the Teamsters 36 years ago."
Reporter